Google Hotels – a new tool for hotel marketing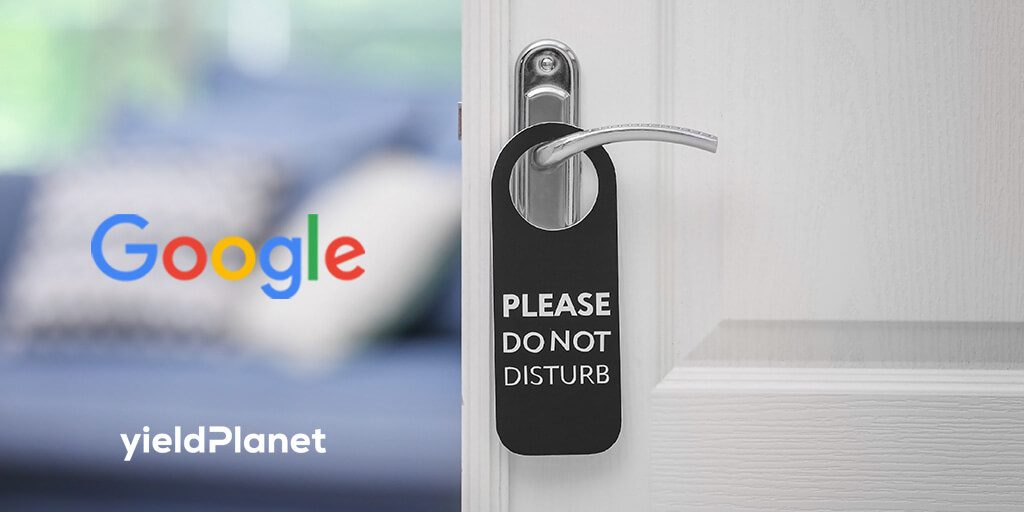 There are many different models of working with Google for hoteliers to promote their property. You can choose the most common way of promotion – the Google Ads. You pay and a link to your hotel's website appears directly in the sponsored links in the browser. However, now Google offers you a possibility to appear on a widget designed especially for hotels – the Google Hotels. What exactly is it and what do you have to do to get there?
Google Hotels is part of Google Travel – a platform which integrates all of the tools which help a traveler book their trips. Initially, Google had a Trips mobile app and Google Flights. Lately, these services were spread to include also and the forementioned hotel search engine and grouped as part of one common platform. Imagine that you are planning a trip to Barcelona and you are looking for a hotel. If you put "hotels in Barcelona" in your browser, this is what you will see.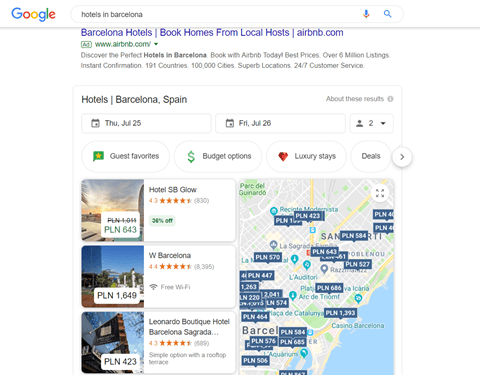 The link marked as "Ad" is AdWords. Then, what you will see in the window between AdWords and organic results is the Google Hotels widget. It allows your potential guests to compare prices from various sites (hotel's own sites, OTAs, etc.) in one place, in real time, without leaving Google.
If you click on a particular hotel, you will land on a page on which you will be able to compare the offers from different distribution channels, including the hotel's own website.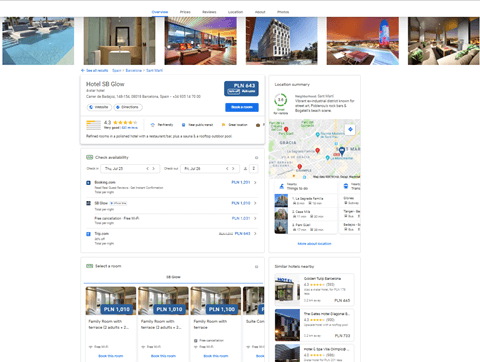 In the "Check availability" or 'Compare prices' box, you can see various links. They take you directly to Booking.com, Trip.com (or any other OTA that has a paid campaign active), as well as the hotel's own website. However, if you have activated the 'Book on Google' option on your property, the hotel will be available to be booked without leaving Google. If it is active, you will see another box. In this particular case, it has a "Select a room" nametag, but it can also show OTAs' offers for your property.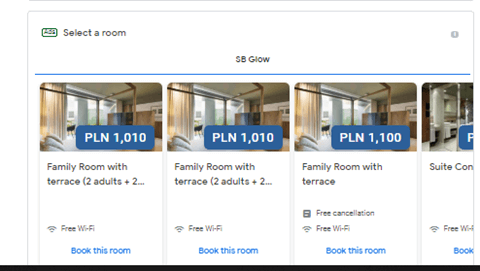 When you click on a room which you have selected, you will see a Google page on which you will be asked to confirm your room choice, give the guest's personal and contact details and credit card number.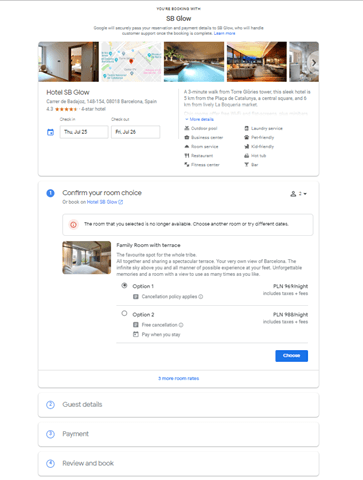 The last stage will be the booking confirmation.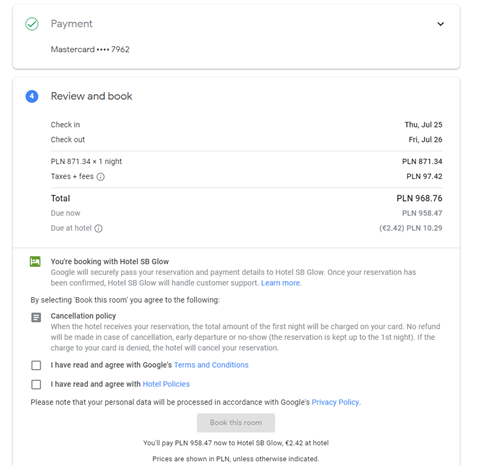 The advantages for the client should be clear by now. What are the advantages for a hotel? If the booker is here, then it means they are further in the process of purchase than most clients who click on the AdWords link. Since they are lower in the sales funnel, then we may assume that these clicks will have a higher conversion than it is in the case of the clicks you get from conventional AdWords.
How to appear on the list
First of all, you need to have an active Google My Business Account.
The main driver for Google to position hotels up or down is Success (measured in CTR & profits), which can be improved with customer/audience affinity. That means, getting a higher position in a rank is not simply a matter of bidding – your position basically depends on whether your website gives Google a high value in terms of the content presented, gives the potential guests good user experience and competitive offer. The demand for the hotel, given its location, quality, reviews and other factors matter, too. All of these effect in the traffic generated on the website by the audience who visits it. If the quality of content is poor or not many people visit your website – you will have to pay to raise your position in the rank. Therefore, you need your Google Ad account to be active, to be ready to improve your position. If you don't pay, you will still appear in the ranking, but this will weaken your position.
One thing is clear: if the hotel direct sales is not present here, then it is losing many bookings, as – if the offers are competitive – it has the highest probability to get the business.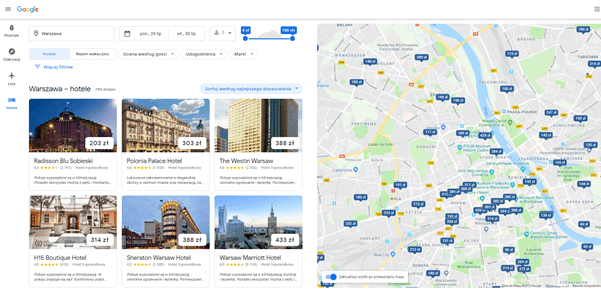 Business models & how much it costs
There are three business models that will lead you to be listed:
CPC – you pay for each click on your link
You pay a commission fee whenever a booking has been made
You pay a commission fee from each stay (charged after the guest's check-out) – this way you only pay for the reservations which effected in a stay; you don't pay for the no-stay. The commission is 10%
Bottom line
In the times when competition is tough, using Book on Google might be a good way for hoteliers to get more bookings.
Read our blog to keep up to date with the recent news from the industry.