Facebook Lives' Statistics 02.09.2020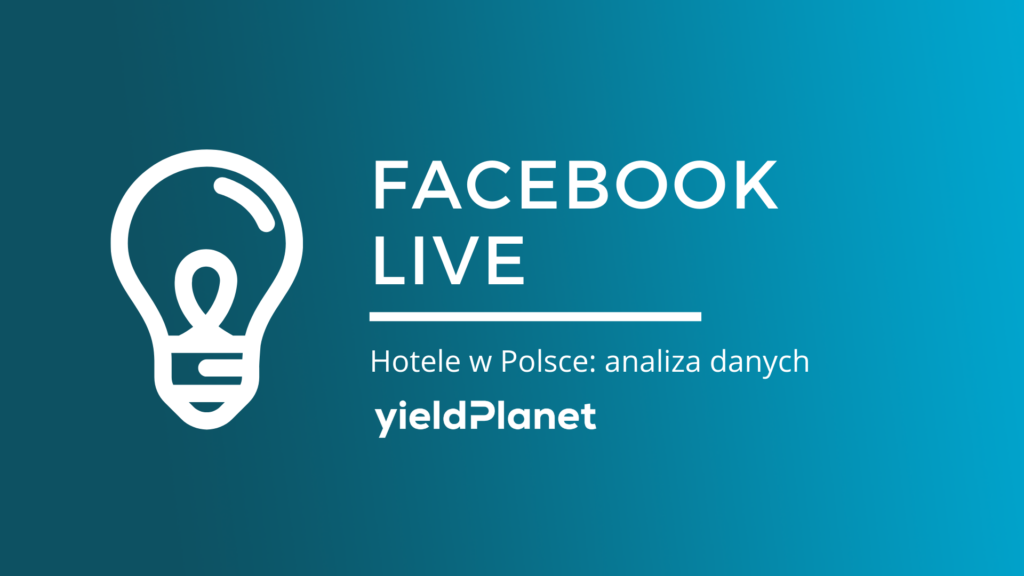 Hotels are opening, restrictions are slowly being lifted and the number of reservations are increasing. It only means one thing – it's high time for action! Now we are observing an increase of reservations which we process in our Channel Manager. We have decided to share this data with you because we believe it might help you to make better business decisions. Every Wednesday, during a morning cup of coffee, we will share new data, briefly discuss it and suggest actions to take in this period of time. 
Join us on our Facebook live every Wednesday at 10:00 AM CET!
Every week we will talk about:
– which channels are worth your special attention during prices setting
– when you should start adjusting prices and preparing your property
– which kind of traffic it is: local or global?
Find short summary from our last session on September 2: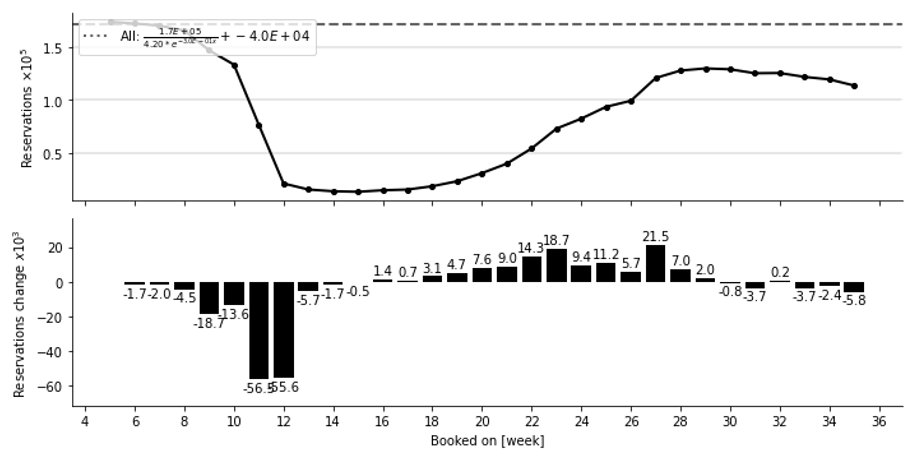 After the initial rise in the number of new weekly bookings between mid-May and the beginning of July (weeks 20-28), the demand has reached its current limits. Over the last six weeks, we observe this number to even slowly decrease.
Let's take a closer look at the graphs and understand the details of the recent booking behaviours.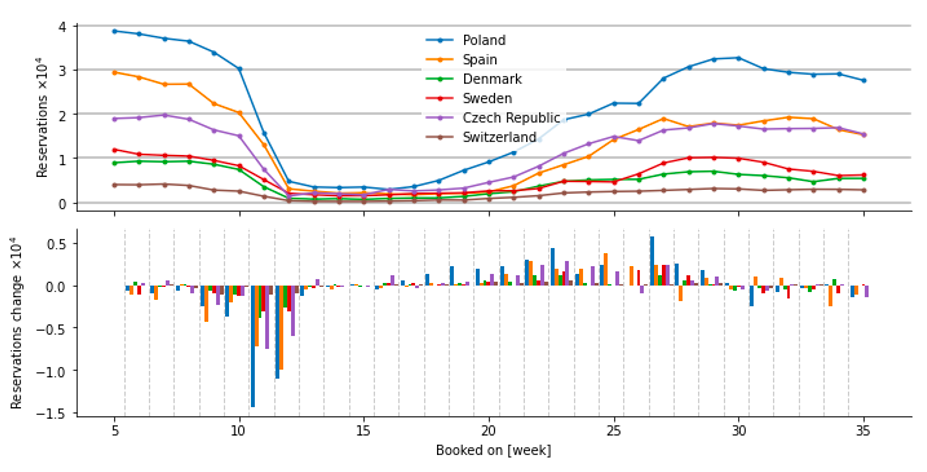 Over the last 1,5 months, we observe a slow down in the number of new bookings made globally. You can see similar trends in most of the countries. At the same time, there are clear regional differences as a result of the local pandemic situation. For example, Spain is recently facing a growing number of confirmed COVID infections and therefore bringing back the restrictions. This results in the fall of new bookings in this region.
Also in other countries, the end of the usual summer season (months of July and August) seems to also have an influence as the numbers in most of the presented countries are not raising anymore.

Globally most of the reservations are made last minute. That was true already before the pandemic but the average booking window is much shorter now. It is also shrinking week by week as a result of existing insecurity of potential guests and existing travel restrictions. Guests are less likely to book further than 4 weeks before arrival. November and December are still beyond the interest.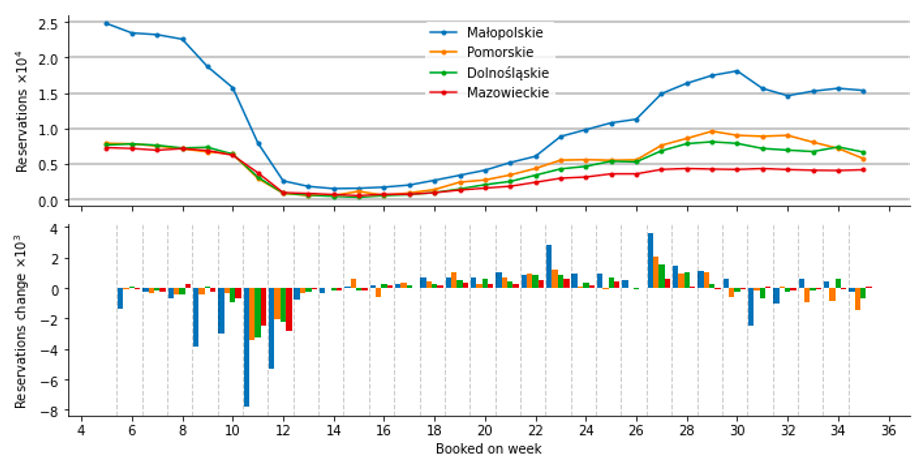 Taking a closer look at regions of Poland we can see different patterns over the summer months (July and August). Pomorskie voivodeship is probably the most interesting case. This region has been facing weekly more bookings than at the beginning of the year (and in the last year). The end of the summer season is over now and the new weekly bookings are dropping again.

Bookings in Poland are also made mostly last minute. There are also some bookings for 5-7 weeks ahead. Over recent weeks we have noticed some interest in the last part of the year (November and December).

The total number of room-nights booked for selected stay dates confirm the last minute booking pattern. Saturdays are the most occupied days (spikes in the graph). Surprisingly Mondays are more occupied than Sundays. This means that there are bookings made only for the first day of the week. This can be a good sign for hotels focused on business segment since this can potentially come from non-leisure areas.
There is also a clear interest in the Christmas and New Year's Eve period.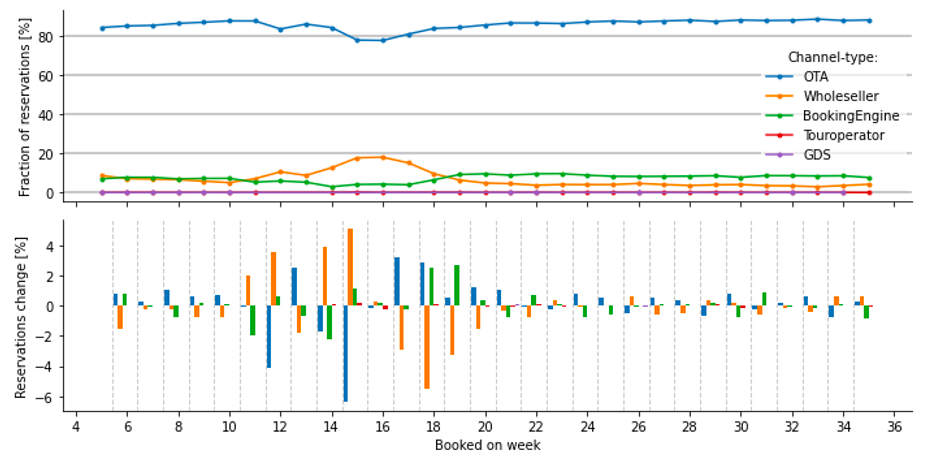 The mix of booking channels remains stable since the beginning of May (week 19). The vast majority of bookings come from OTAs. Unfortunately, all the campaigns encouraging guests to book directly didn't bring expected results. The share of direct bookings remains at a similar level as it was before the lock-down.
Please, share  your opinion with us and question you have,  and suggest what data we should show next week.
Follow us on Facebook not to miss anything, see you there! 
Summary:
– the ceiling of the demand, diminishing number of new bookings in most regions
– still(!) shrinking booking window
– first bookings for November in December in Poland
Tips:
– be patient in any price changes – most of the bookings will come in the last week before arrival
– open and control rates for as long as possible since the demand is unpredictable (don't miss the chance!)
– implement automation tools (like Price Optimizer) so with the limited capabilities you can make sure your distribution is controlled 24/7
If you want to watch a full Facebook Live, you can do it here.