Meet us at Igeho Basel in November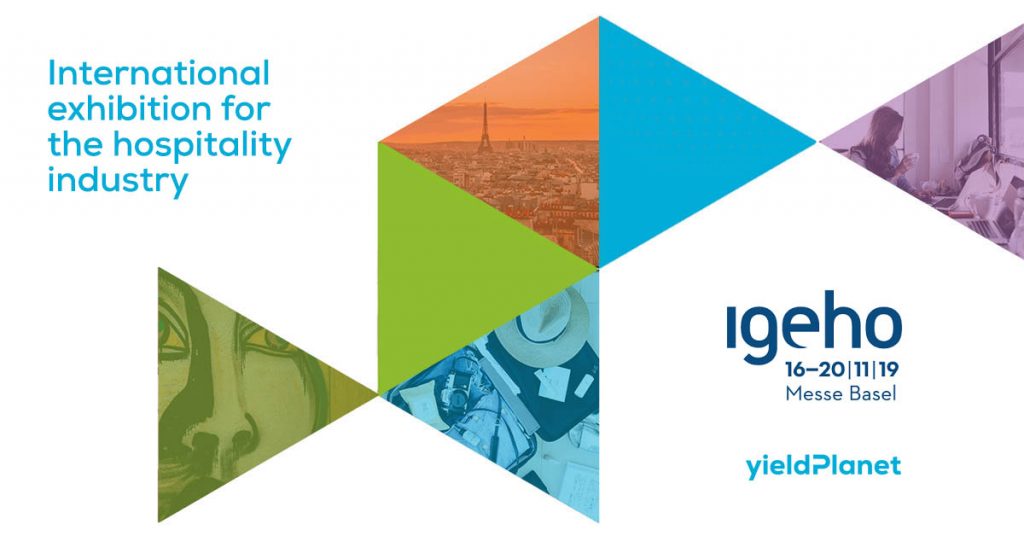 (German version below)
YieldPlanet will be present in Hall 1.1 booth C165 at this year's IGEHO in Basel, Switzerland. Igeho is the most important international exhibition for the hospitality industry in Switzerland, with a unique and wide range of products and services on offer.
Meet the YieldPlanet team from Switzerland to discuss the latest trends in Revenue and Channel Management and book a demo for our cutting-edge solutions.
YieldPlanet's Price Optimizer is our answer to your hotel's Dynamic Pricing and Revenue Management needs. Price Optimizer boosts RevPAR through effective, AI-powered and fully automated Yield Management. All the changes are made in near real time. Intelligent forecasting algorithms provide you with daily updated insights into hotel's future occupancy and revenue even for 36 months ahead. The forecasting algorithms deliver you the insights you need by breaking the forecast down by your market segment. Any manual override can be done with just one click.
YieldPlanet's Channel Manager is the industry's most flexible solution to manage online distribution and optimize the prices of your rooms and offers in all your channels. It allows you to easily synchronize data between your property and hundreds of OTAs, GDS'es and your own website. YieldPlanet's Channel Manager works equally well for Hotels as well as Apartments or Vacation Rentals. This year, we have implemented a few new functionalities. Channel Manager now also supports Airbnb promotions. These include minimum stay deals, advance purchase discounts, last minute offers, as well as seasonal deals. 
The fair will be held from Saturday, 16 November to Wednesday, 20 November 2019 at Messe Basel, Switzerland. More info at www.igeho.ch
Meet us to discuss the opportunities to boost your revenue with our solutions. Claudio Limacher, CEO, and Christian Ruoss, Country Manager Switzerland, will be present during the exhibition and be happy to answer all your questions. You can schedule an appointment with us online here:
Schedule a meeting with Claudio Limacher
Schedule a meeting with Christian Ruoss
DE
YieldPlanet wird in der Halle 1.1 Stand C165 auf der diesjährigen IGEHO in Basel vertreten sein.
Treffen Sie das YieldPlanet-Team aus der Schweiz, um die neuesten Revenue- und Channel-Management Trends zu diskutieren und eine Demo unserer innovativen Lösungen zu buchen. Wir haben das vergangene Jahr genutzt, um unsere Ideen und Ihre Inputs in eindrucksvolle und verblüffende Funktionen umzusetzen.
Die weltweit einmalige Verschmelzung von Price Optimizer und Channel Manager bietet eine nie dagewesene Vielfalt von Einstellungen und die individuelle Kontrolle von jedem einzelnen Zimmer auf jedem Kanal.
Die IGEHO Messe findet von Samstag, 16. November bis Mittwoch, 20. November 2019 in der Messe Basel statt. Mehr Infos unter www.igeho.ch
Packen Sie die Möglichkeit im persönlichen Gespräch unsere neuen Lösungen zu entdecken. Claudio Limacher, CEO, und Christian Ruoss, Country Manager Schweiz, werden während der Ausstellung anwesend sein und werden gerne alle Ihre Fragen beantworten. Hier können Sie online einen Termin mit uns vereinbaren:
Vereinbaren Sie ein Treffen mit Claudio Limacher
Vereinbaren Sie ein Treffen mit Christian Ruoss